Bovine meat: nutritional properties
Bovine meat is one of the main sources of essential vitamins to the good functioning of our organism.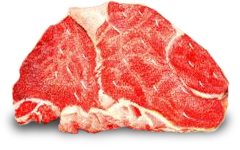 Moreover bovine meat helps the intake of other vitamins such as B12 which acts on carbohydrates and fats metabolism and it is essential to red blood cells formation; vitamin A plays an important role in sight but also in skin and immune system; vitamin B3 which is necessary for the growth; vitamin B6 acts in the protein metabolism and it is essential to hemoglobin production; vitamin B12 acts in proteins and carbohydrates metabolism and in energy production; vitamin B5 is involved in the production of essential fatty acids.
The meat of Marchigiana cattle breed is characterized by fine fibers and tiny filaments of fats which improve its taste.