Innovation based on solid tradition, our last product:
Cured meats preserved in ash
Salami, lonzini (pork loin) and hams are all rigorously preservatives and additives - free, so that they can be also consumed by allergic people.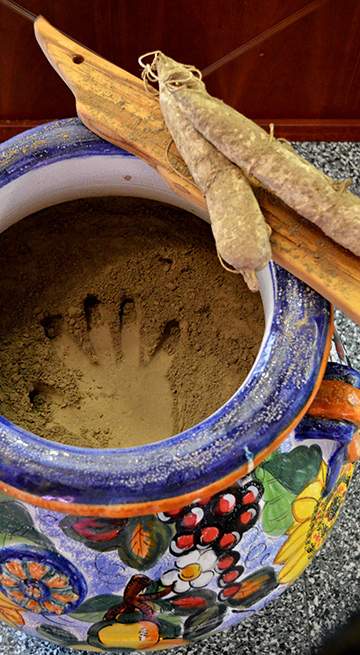 After the usual "Norcino" (charcuterie) pork processing without any kind of preservative, we produce cured meats of "Large White" breed pigs reared in Carpegna, and now, also of the crossbreed between "Cinta Senese" native breed and "Large White" breed pigs, reared in the wild or semi -wild in the hoods of the area of Acera of Casteldelci.
After the salting, the drying , the "stuccatura" (larding) and the aging phases (the length of the aging period depends on the size and the type of cured meat processed) some products such as salami, hams and lonzini (pork loin) are then refined in only wood ashes of the bread ovens of Maiolo in the Province of Rimini.
This is not only a local ancient custom, but it was an usual practice of the whole farming world especially because ash was never lacking and it did not cost anything.
This system allowed a longer term preservation of cured meats and to alleviate the moisture variations ( since neither vacuum pack nor freezers existed).
We resumed this system with the aim of characterizing some of our cured meats, mainly imparting the scent of fireplace embers to the products.
Bon Appetit!